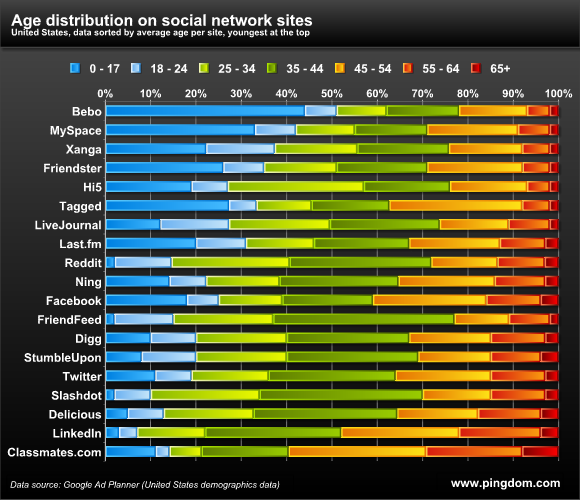 Forget
Twitter
.
Generation Y
isn't into
LinkedIn
. More than any other social networking site in this list, the above graphic shows that young people ages 0-24 really aren't into the business networking site, LinkedIn. Wait…read that again. Business networking site, LinkedIn. That's probably why GenY and GenZ are not into the site. Unless they are making major initiatives into starting their career early, the next generation has no reason to use LinkedIn. Generation Y, however, should begin considering it. In this job market, especially, it is growing more apparent that finding a job will not be about what you know or who you know but who knows YOU. If you cannot be searched, then you are not relevant. If you're not relevant, you're not worth hiring.


There has been much said in the past year about Generation Y and its misuse of social media networking sites. Twitter is getting the brunt of this energy as the latest thing to explode since Facebook. Marketers and critics argue that our generation is supposed to inherently love social media because it allows us to connect with our friends. Well, some of us still like our face to face interactions and value those connections more than the potential to amass fake friends and followers. Status updates from people we don't care about mean little to nothing, serving to overpopulate a stream where we would rather have only a few.
Did that sound like a typical GenY'er? Good. Now here's the position of a GenY'er who has grown up and understands the value in social networking.
LinkedIn may be a professional site that seems serious at all times but business is serious. There are times to play and times to work. A profile on LinkedIn will ensure that people in your industry are noticing you as being a thought leader. Far too often we're being labeled as an entitled generation that needs compliments every hour and someone to hold our hand through life to make it. On LinkedIn you have a unique opportunity to prove that you can take the initiative to start groups, run them successfully, help others by answering their questions, and engage with others professionally.
Beat the GenY stereotypes. Use LinkedIn to help you get a job
GenY is entitled and thinks the world owes them something

Show people that you want to give and not just get by answering their questions

GenY is not capable of critical thinking

Show that you can examine both sides of a statement and come to your own conclusions

GenY is lazy

Do you know how much work it takes to manage building your own brand?
Are you part of Generation Y and a LinkedIn user? What have been the benefits for you? Are you a GenX or Boomer and noticed a GenY'er making great strides?