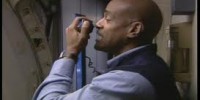 EMBED-The Rapping Flight Attendant – Watch more free videos
She makes just $19 per flight hour and works 75 flight hours a month, which comes out to just $17,100 annually. "It's an easy plan. Companies take care of employees. Employees take care of customers."

Source
A  passenger called in to complain about a flight attendant who was too busy to greet her! The passenger stared at her, and the flight attendant just keep talking and chatting on Facebook. Comments from viewers of the video:
My mom is an airtran flight attendent. She is gone for up to 2 and a half weeks at a time. She got this job when i was 8. It was sooo hard to go so long without talking to her or? texting her. If she communicates to her family then let her and quite your crying!!! if u dont get greeted then oh no , im soo sorry. My mom takes lots of crap at her job, but she has to try to remain professonal and smile. so sorry about your HORRIBLE trip that was ruined because the flight attendent didnt greet you!

Since were talking about Flight Attendants texting on cell phones, lets flip the script a little bit: Passengers, on the cell phone during a safety demonstration…. Now, if at any circumstance we are forced to evacuate, what do you think that person capabilities are at that moment?

Who really cares? I am a flight attendant and ppl complain about the dumbest things, honestly! I bet this woman was sleep that is why she got passed. I def agree with some of the? previous post. Yes we are paid to be courteous but who really cares that the fa was talking to a pax, seriously that is ur complaint? You got skipped and didnt even ask for anything, you stared at her? Really.



What do you think of these videos? Do you have a favorite?