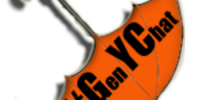 #GenYChat is about all generations coming together to deliver insights into the world in which we live. Steve Campbell will be guest hosting tonight's #GenYChat on Social Media, offering  his insights into what will be a lively discussion on how each generation feels about everything social media has to offer.
On his Social Branding blog, Steve has discussed many topics under the umbrella of social media, including attracting more viewers to your LinkedIn page, viral marketing, and the difference between personal branding and social branding.
Check out some of the questions that will be posed tonight:
What do you get out of using social media?
Were you into blogging before social media came around
What are best practices for engaging others in these spaces?
What do you think "the next big thing" will be in social media?
If you haven't participated in the chat before, but have insights to share, please do the following to participate in the chat:
If using Twitter:
Type "#genychat" into the search field
Reply and ReTweet but add "#genychat" onto your tweets in order for everyone participating to see your tweets
If using TweetChat:
Sign in through OAuth. (note: Please read this information about using  OAuth to give third party applications access to your account)
Type "genychat" into the search field (The "#" is already provided)
Click Go
Reply and ReTweet. TweetChat puts the hashtag in for you so you don't have to
If using TweetDeck:
Click the + symbol to add a column
Type "#genychat" into the search field. A column will appear as the last column in your TweetDeck
Using the left arrow button, move it next to your Mentions column to better see and respond to your replies while in the chat
Click the Settings button
Click on the Twitter tab
Click on Auto include hashtags when replying
Click Save settings
Reply and ReTweet. TweetDeck puts the hashtag in for you so you don't have to. (Note: You still have to add "#genychat" onto your own tweets in order for everyone participating to see your tweets)