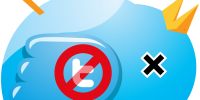 I'm writing this with much apprehension. I'm sitting here dumbfounded and disappointed. Only one other time in my life have I found myself at such a loss for words that I can't even determine how to complete this statement in a manner that concisely summarizes my thoughts. Where are we as a human race that we cannot look to our left and look to our right and help us all make it out? I used to believe that we were all good at heart. I thought that somewhere along the way unfortunate experiences turned us bad. I hope this is still true. If you really knew me, you'd know that I hold a lot in because expressing my feelings and sharing my thoughts with the goal of helping people always resulted in me being hurt because the person didn't want to be helped, hence the reason for my apprehension in writing this piece. Many events have occurred on Twitter in the past month that led to me writing this. There is no one event that sparked it, but they all need to come to resolution.
First…a little background

None of the friends I had on Facebook were using Twitter. If they were using it, they didn't tell me. Therefore, I didn't know much about it simply because I hadn't even heard of it. When I joined Twitter in early 2009, I did so because I saw others talking about it on Facebook. They were saying that it was constant status updates and mentioned something about a fail whale. "What on Earth was a fail whale," I thought to myself. Intrigued, I wondered its difference from Facebook; as I was finding very little use in Facebook, I assumed I would find no use in Twitter. I was quickly proven wrong, finding it useful for everything from entertaining conversations to networking with industry professionals. My actions through the use of Twitter are responsible for the honing of my career goals and strengthening of my sense of self; I am forever in its creators' debt for having opened this channel. As much as I appreciate what I've learned about myself from interacting with people on Twitter, I would quickly stop using it if trends that I've witnessed in the past month continue.
Hurt people…hurt people
Everyone likes to be funny and crack jokes. Being professional all the time is one dimensional and just as boring as being the perpetual class clown. I strive for balance; I strive to be a well-rounded person who incorporates concrete skill with the soft skills necessary for a well developed personality. Comedians are the most self-deprecating people, using laughter to dull the pain of bad experiences. We wouldn't need these coping mechanisms if people were just nice to one another, though. It speaks volumes about us as a society that our default is negativity. We question happy people. We don't trust people who offer to help us. We unfollow people because they're boring. But wait…they're boring because:
They go on vacation and don't tweet
They don't ceaselessly bash celebrities
They expect A-list'ers and celebrities to respond to each and every reply they get
They don't chime in with an opinion on  every major current event
THEY'RE DRAMA FREE
Seriously…what is wrong with us?? It is a psychological truism that what upsets us the most about other people is that which we see in ourselves. If you don't see anything wrong with hurting people, then you're doing it instinctively and selfishly without analysis. You're in deep denial about the impact of your actions. You are hurt.
When keeping it real goes wrong
It's fine to argue the point that you can do what you want to do with your own account. When those actions start affecting others, then it becomes a problem. It's surprising that, as adults, we forget we have a responsibility to treat others the way we would want to be treated.

In a climate where people are gaining followers because they are the center of drama, I feel it necessary to air an analysis of this behavior in the hopes that it starts a conversation about these unhealthy trends. We're out here hurting each other because it makes us feel better. That little child in us who lost their innocence the moment they were physically or emotionally abused is fighting back. Nowhere is this more evident than in the service industry. Everyone who was given bad service does so in retaliation for feeling forced to work for a company that doesn't care about them, in service to people who treat them like garbage, to go home to a family who doesn't respect them for having that job. These hurt people seek solace in the Internet.
Impact on Customer Service
I once worked in a customer service environment where it became less about sales of products and education of the consumer and more anticipation of behavior and management of personalities. I hated it to my core. It turned me into an angry person who despised going to work every day because I was not being used as a knowledgeable associate who was there to help; I was viewed as a necessary evil whose (genuine) care and service was a hindrance to their goals. People were mean consistently with no provocation. Smiles and questions of how can I help you were either completely ignored until the person wanted something, or they were met with stares and no response. Saying hello and offering a smile in return was not the norm and seemed to be too much of a hassle for most. Is this the way we were brought up? Is this how (some) parents are raising their children? Ignore people until you need something. Trash their places of work because it is their job to clean it up. Disrespect them because their job, and therefore placement in society, is less worthy of respect than your own.
What is an Adult?
Ultimately, this is why Generation Y gets the bad rap for not respecting "adults". These so-called adults do not model the behavior they expect of the younger generation; they exhibit daily signs of rudeness with their road rage; they allow their pent up anger and frustration to bubble under the surface so long that they erupt at the wrong people. For this they are seen as hypocrites. Why does Gen Y seek to collaborate and communicate with everyone as equals? Because treating people with respect is an arbitrary societal dictate that society does not adhere to. So, why follow this ridiculous rule if it only results in the exact opposite behavior being done behind closed doors? GenY'ers treat people the way they would like to be treated: as knowledgeable people who are trying to gain more insight into the world around them.
Tweeting at another's expense is for the youth
Maybe we have always been a passive aggressive type of people. We leave our comments on receipts instead of telling the waiter or waitress how we felt about the service. We vent on forums and review sites like Yelp instead of going to management. Instead of airing our grievances to one another like adults, we take to the Internet and become virtual thugs who hide behind usernames to attack people. When I saw people attacking celebrities on a regular basis, I, admittedly, overlooked it because I saw it as a cost of fame. Singer Erykah Badu (@fatbellybella) recently shared the following memory on Twitter:
"when I was in hschool I used to yell very mean things out the bus window at unassuming strangers n the name of laughter.what goes around.. … I never imagined that some of those human beings may have to hurt as a result . it was just funny I thought … still funny . but at some one else's expense. they couldn't see who I was. I was such a bully and a coward . lol . youth I guess."
It shouldn't be this way, though. Why does your happiness depend on someone else's unhappiness? There are so many unhappy people in this world and Twitter is a microcosm of this, encapsulating the negativity of its users and making it that much more apparent. Is it only the United States that behaves this way? The United States…I'm sure you can determine the irony on your own.
Long Term Consequences
So what's going to happen? Are we all going to block and unfollow each other until there's no one left to talk to? Will we continue to talk behind each other's backs with these subliminal tweets? Then what? Once we log off of Twitter and participate in real world activities, are we going to sabotage each other if we become successful in the media sphere? Is someone going to avoid reading the Huffington Post because they don't like the person who writes a column for them based on something they said…on Twitter? Are they going to tell all of their friends not to read it, too? If Twitter isn't really that serious, then maybe no one should be taking all of these insults and behaviors seriously. Maybe I shouldn't even be writing this. The problem with this theory is that Twitter is actually that serious. Not everyone treats Twitter like a stage and puts on a show to gain a cult of followers. Some people actually get jobs from using Twitter. Strange that it can actually serve a purpose, huh?
Taking back control
In the past I managed my account by hoping the people I desired to unfollow would unfollow me first. I was trying to be nice. I would let the other person choose to let me go and breathe a sigh of relief that I no longer had to skip past their tweets or employ other passive aggressive management tools such as using the global filter on TweetDeck or the mute feature on UberTwitter to slyly block their tweets without their knowledge. This isn't a way to live. I shouldn't be getting a tightening in my chest when opening up my laptop to view my account. When did I lose control?
I feel anxiety when I see hateful words fly across my Twitter timeline. And, hey, look at that, it's my timeline. I can, should and have the right to control what I see and welcome into my world be it virtual or not. When I step out of the house, I make conscious decisions based on life experiences. I have an acutely developed instinct that is still maturing but has served me well thus far. Whenever I do things that act in opposition to the guidance of my instinct, I end up upset with myself. The worst thing that can happen is for me to derail myself. I've wasted enough time and have no interest in being on the wrong path at this point in my life. It is time to move forward with a clear vision of how I want to live my life. Since my life includes the daily use of Twitter, it is included in this monitoring.
The fix:
I will not allow negativity on my feed. This is somewhat subjective, so it may seem unfair. It doesn't mean that the connection is broken forever. People can and do change.
Constant discussion of politics, religion, sexuality, and/or race turns the screws on the vice grip. I enjoy intellectual discussion on a variety of topics. Talking about these same topics 5, 10, 18 hours a day, 365 days a year is not variety. When it loses its objectivity and becomes subjective discussion on what is going wrong with no discussion of solutions and action towards that end, it becomes negative, thus falling into the first category.
If it becomes clear that either I or you no longer benefits from being connected to one another, I will end the connection. If our conversations always start because I speak to you, it's an indication of a one-sided connection. There are many occasions when I engage with people who, for one reason or another, do not respond back to me, but I continue following them. Often this is because I feel I have something to learn from them. I simply remove the engagement and become an observer.
Clogging my feed by "going in" on trending topics. Unless you're actually clicking on this tag, engaging with the people using it, and finding new people to follow, what purpose does it serve? Ever notice that most of the hash-tagged trending topics are negative anyway? We're back to category one.
Retweeting negative people. Yup…you guessed it. Constantly retweeting negative people with protected accounts? Double bad. Occasionally doing this helps people find each other. A whole page of this is ridiculous. They clearly aren't interested in letting people find them or having people see their tweets. Why air them to people who aren't interested in following that person?
Words of wisdom, quotes, auto tweets, 100 character sound bites designed to get RT's, etc…This is a case where I'm sure you're a nice person outside of Twitter, but I have nothing to learn from your Twitter strategy. Twitterfeed, Ping.fm, etc…are all blocked as sources on my TweetDeck's global filter. I understand you have articles to promote but seeing the exact same tweets day after day is spammy. I'm also more inspired by motivational stories of overcoming personal adversity than the copy/pasted inspirational thoughts of other people.
Retweeting others' thoughts with no context; requesting that I spread your content via direct message with no engagement from you in the public timeline; tweets that are purposely misspelled or have constant spelling errors; use of offensive words. These are relatively minor and can be overlooked unless they become incessant.
Complaining for the sake of complaining.
Following from a blocked account and never speaking to me. Why?
The Future of Twitter
Help me to understand this "real world" because it doesn't seem very real to me. Will we all begin to regret having ever joined Twitter? Those who were here for entertainment purposes only will continue to use it until it fades in popularity like MySpace. I've already started seeing accounts where people have unfollowed everyone, put people on lists, and follow people by checking the lists. It's a sign that interest may be shifting. Those who sought it out for business will find other more primitive ways to connect with one another (blog comments, email, and telephone) until the next big social media innovation.
Attacking people on Twitter is the equivalent of spanking children. Children learn nothing from being spanked other than to avoid getting caught so they don't have to feel pain. Some children begin to act out just so they can be spanked. They learn that love means never having to say anything nice about you. Fearful that their children will develop this unhealthy perception of love, some parents opt to coddle their children; they never discipline them, thus the children never learn to correct themselves. Maybe too many of us adults have been coddled too long. It's time for us to learn that our online behavior can have negative consequences. The reason we don't do bad things to each other is because we wouldn't want someone to do bad things to us. Maybe it's a concept that feels a little too kumbaya for some, but, maybe, a little more love is what we need in this world. Maybe a little more love will prevent events like this where men and women attack each other

But, then again, we're so messed up as a society that we don't believe anyone who honestly offers love. How many people doubt Kanye's Twitter apology to Taylor Swift? We can tell Kanye to grow up, but can we look inwardly? How many people will think that I'm just doing this for blog hits? *shrug* I guess you'd just have to trust that my intentions are good.