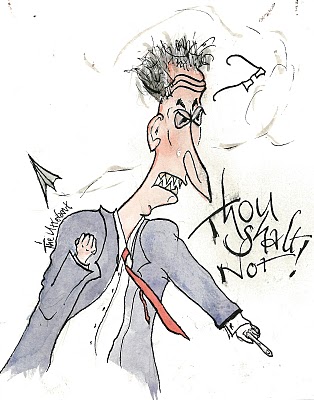 Between Papa John's, Pizza Hut and Domino's Pizza, which would you choose? Why? Is your decision based on price or taste? In turn, are you more likely to read a blog because posts are consistently short? Or, are you more likely to do so because the author's voice is appealing to you?
"I can sum it up in one word: He doesn't respect me." –Jack (Will and Grace)
Jack's character has a flair for drama and loves to use words to evince said flair. His one man show, Just Jack, could have been shortened to Jack, but, in his opinion, there's more fun in speedily saying, "Just Jack". He forgot one rule of writing: make it reach the people. Writers love their own words. All of them. However, copy with unnecessary words will go unnoticed by people.
Being an Effective Communicator
My goal is always to create compelling content that begs to be shared. From blogs posts to #genychat questions, I research trends and read statements made on Facebook, Twitter and Yahoo Answers to glean points of confusion and frustration. The goal of the #25Reasons project is to prove why I am the best candidate for a position in Social Media, which necessitates skill in marketing, public relations, and relationship building. It also requires analytical ability to revise strategy.
Implementing Strategies Based on Research
If undesired results continue, change. I had a specific goal for the initial post that kicked off this project. I researched what were said to be "Amazing!" and "Must read!" posts. Yesterday's post used advice from Copyblogger on opening a blog post with a bang. Today's post used different advice.
After manipulating search strings in Google, I found a snippet of the transcript from an episode of Fresh Prince of Bel-Air that I still recall for this scene.
That's all you got to say?
Good night?
Carlton, you Five-Oed me, man.
Excuse me?
You dimed me out.
Pardon?
You tattled on me, all right?
I did it for your own good.
You weren't going to tell.
How do you know?
You didn't give me a chance.
You're not worried about my own good.
You're just worried about yourself.
It may seem like that to you now,
but one day, you will…
Carlton, shut up!
I know what this is about.
You thought you were
this big hotshot at school…
and I was gonna be your little charity case,
but I took your juice.
Let me explain something to you.
In this society,
we have this silly little thing called order…
and we have rules to preserve that order.
If we let people break the rules,
there would be chaos.
We have rules where I'm from, too.
And they say you don't rat on people.
The more you cling to your old ways
and refuse to listen to reality…
the harder it's going to be
for you to fit in with my friends.
You just don't get it, do you, man?
I don't want your friends. All right?
If I woke up one morning
and I had all of your friends…
and I was an Alligaroo…
and I wore those cute shirts
with the little horses on them…
I'd jump off the Empire State Building
and hope to catch my eyelid on a nail.
With quips like that, it's no wonder
you're the toast of the town.
At 7 years old I watched this episode. 20 years later I remember it for the valuable lesson on personality and conversation: When talking to people, speak to them in their own language. Frustrated with Carlton and his prose, Will reacts, begging Carlton to "Shutup!" Carlton, valuing his edification, attempts to liken Will to a sound bite generator, appealing to the every man. In the end, Will is more appealing to Carlton's friends.
Social Media Experience
I fought on the side of prose in a #blogchat where Mack Collier chose my question on Who You Should Write for on Your Blog. Opinions differed sharply.
danperezfilms @BloggerTalk. A "code of ethics" shouldn't apply to an art form (writing) #blogchat

Mandy_Vavrinak @laurenkgray @teriaulph @bloggertalk @kristenamorse @danperezfilms you can blog however you want, but you may have no audience. #blogchat
There are benefits to being both as erudite as Carlton and as accessible as Will. I understand both positions better now. No matter how good a pizza tastes, consider the value your customers will perceive between $10 for one with 3 toppings and $7 for one with 3 toppings.