Increase Referrals by Being a Good Commenter and Moderator
When you comment on a blog post, what are your expectations? Is a comment like a taste of your writing ability? If you're seeking more organic traffic to your site, leaving comments on other blog posts is an excellent way to allow people to find you. As a blog owner, comment moderation can either drive traffic to or away from your site.

The number one rule for commenters: When leaving comments be sure to leave a comment that will add value to the post.
I left a comment on a post written by Margie Clayman that took a stance, defended it, and added my analysis. It's easy to write a great comment when someone has written a great post.
F.A.Q.'s on Commenting
Should you respond to every comment?
Yes.
Why?
Responding to every comment shows reliability and builds trust between you and your audience. It lets them know where they stand with you. If you respond to some people versus others, it will appear as though you are showing favoritism, especially if it appears that you are only responding to the heavy hitters in social media.
Should you moderate your comments?
Yes and no.
Do: Moderate spam. No one likes visiting a blog and seeing that no one is at the controls.
Why?
It looks like you're trying to inflate the popularity of your blog by allowing all comments
Don't: Edit the content of someone's comment.
Why?
They'll go back and look for their comment. If they see that you didn't like what they had to say, they likely won't comment again. If they're the type to alert their followers to poor customer service, they're also the type to tell their followers about your editing habits. That's bad for business.
When Commenters Go Wild
How many words are these pictures worth?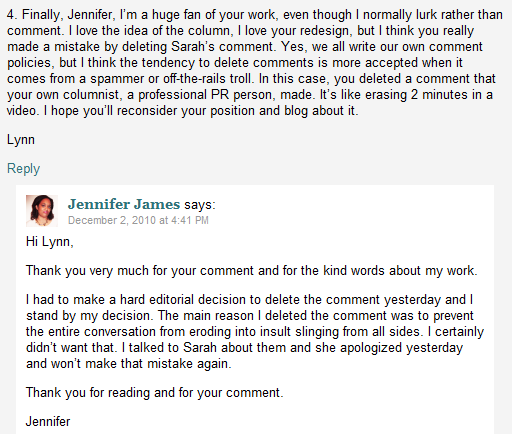 These pictures were used as an example of what can happen when someone guest posts on your blog.
Who should respond on a company blog?
The person who wrote the post. This is who people will directing their replies to, so they should be talking to them. In a conversation would you want someone else speaking for you?
Who should respond on a guest post?
The person who wrote the post should respond, but the owner of the blog has the onus of responding to everyone.
How should you handle negative comments?
Thwart attempts at negative comments from the outset by having your commenting guidelines posted. Make it clear that you will not tolerate harassment of any kind. The definition of harassment is up to you, but know that you will lose your audience if they feel they will be attacked for stating their opinions.

Blog Comment Systems
LiveFyre – The first I've seen that integrates replies into a user's Twitter stream when they mention someone's Twitter name in a comment on a blog post. This can be dangerous and seem like spam. Can you imagine someone mentioning major influencers just to get them to look at the post? For people who don't like Paper.li, I can see this being a major deterrent. One benefit that I have not seen in any other system is the live comment stream, which shows how many people are viewing the post at a point in time.
CommentLuv – The moderation system I use. It shows the commenter's last post and gives them love via a "do follow" link back to their post. Given the popularity of my blog, I prefer this option because it encourages people to comment. Someone with a bigger blog might not want to use this, though, because commenters may use this feature just to get a link without really caring about your blog.
Disqus – Integrates comments into your social network feeds, but they are often out of context. The benefit to Disqus is that it works on every CMS platform.
IntenseDebate – Touts email notification as a reason to use the service, but this can be achieved through a plugin. I use the Comment Reply Notification plugin to let users choose to have replies to their comments emailed to them.