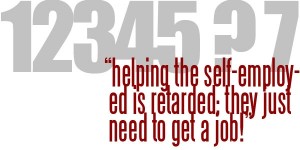 Isn't that something you'd like to say every day? In this down economy many career experts suggest people get a job – any job – as long as it pays them enough.
What is enough? What is the tradeoff between time lost networking via online channels and face to face meetups?
At some point, yes, one must get a job. If you're interested in starting your career, as many non-graduates who are past the typical age and requirements for internships are, it is imperative to find something you can do every day with the same fire and energy as this woman:
Is there a job you can do that relates to the career you want?