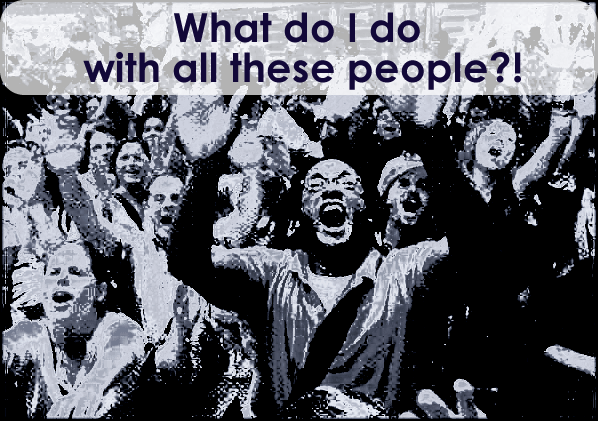 a. Follow no one and put everyone I am interested in conversing with on lists based on the categories of their tweets.
b. Follow every account that follows me and talk to (some of the) people who talk to me.
c. Follow only real people that I've had real conversations with.


I began on Twitter with a policy of not following everyone that followed me. Whenever I got a new follower that I hadn't previously spoken to or RT'd via someone else's RT, I tried speaking to them. In some cases the conversations were like a bad blind date: awkward and I just wanted to get out of there. I also saw accounts following me that were locked but never spoke to me. Why do people do this?
I discovered quickly the hurt feelings that develop when someone whom you've been in great conversations with unfollows you. You're left wondering what you said that made them decide to cut off the relationship. What I learned, though, is that it's not always what you say but what someone else says about you. For that reason, I became very selective about who I follow. I speak to just about everyone who speaks to me. I do only follow real people who follow me, though.
Celebrities, brands, etc… that don't follow me aren't the people I want showing up in my timeline. These are the accounts that don't really want to have a conversation with me. They just want my support to broadcast their messages and their messages alone.
My process evolved out of a desire to prevent hurt feelings for both parties. Isn't it uncomfortable when you realize you replied or RT'd someone who intentionally unfollowed you? Isn't it even more uncomfortable to be following someone you wish would unfollow you?
If someone new follows me, I give them a few days of my tweets showing up in their timeline. I didn't get to nearly 40,000 tweets in 1.5 years by being a lurker. If they're still hanging around and their tweets are interesting to me, I follow them back. When I get spare time, I go through and block the spammers to prevent an inflated follower count.
This process takes the most time, but it is the one that has garnered the best regret-free, drama-free, timeline that I look forward to scrolling through every day. I never want to regret my time on Twitter. I never want to consider deleting my account because I had too much Twitter rage taking place on my timeline.
I apply the same method for myself when I find an account I'd like to follow. I follow for a bit and speak to them. If they don't reply after three separate, well spaced out occasions where I offer relevant conversation and not just RT's or compliments (and it's not a case of stepping away from the computer for X number of hours), I assume they don't want my business and I unfollow. If they autofollow me but still never speak to me when I speak to them, I unfollow, as well.
Twitter takes time, and I appreciate everyone that reads my tweets and has conversations with me because I do the same. It's the reason I know what reaches my community.
How about you? Do you have a strategy for managing conversations and followers on Twitter?