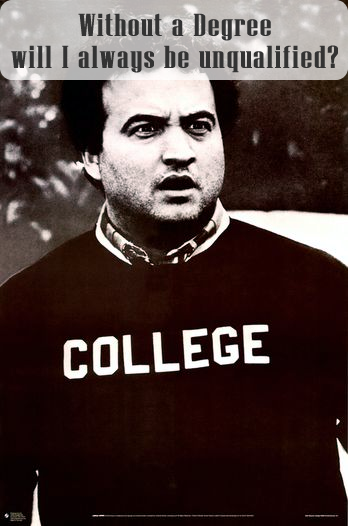 Andrew Norcross is a Web Developer and WordPress Designer whom I've had the pleasure of getting to know through Twitter. In my many encounters with people over my time on Twitter, I've had to question the sincerity and intent of some. I can honestly say I've never had to question him. He's as real as they come, and you'll see why in the conversation that follows.
The Questions I Asked
How did you gain your expertise?

How likely are you to get a degree?

If someone doesn't have a degree right now, what can they do to get on the right track towards the career they are seeking?
Andrew's Response
To start it all off, I'll say that my path isn't normal. Actually, I don't know anyone else who has done it. Not on purpose, just seems to be how it worked out. I went to a high school that offered an 'executive internship' program for seniors, which was much like OJT only instead of going to work at McDonald's or something you had a 'real' job. You didn't get paid, but you got college credit and the experience. I actually graduated with 15 credit hours towards a degree, and also began working for the firm that I did the internship with the week following my graduation from high school.
Expertise? I busted my ass. Hard. I did work that was 'beneath' me, I tried to do as much of my bosses' work as I could so I could get the experience they had. You can always find someone willing to let a little of their work go. It wasn't glamorous, but it worked. I was also fortunate to have a boss who allowed young people to have responsibilities. Mind you, none of this work was really in the software development / web design field I am in now. I worked in investments as an accountant, then a money manager. I left that career in December 2009 to return to school on a full time basis and work freelance. I really had no idea that my freelance business would take off like it has.
I've never taken a design / programming class. I learned by doing, by fucking up, by overpromising and having to learn quick to make good on my word. Because all the buzz words and "Gen Y" horseshit isn't worth a damn. It's a label and an excuse. You are only as good as your word. Not your 'brand', your 'community', or anything else. Just your word. So I made sure I didn't mess that up. I slept an average of 4 hours a night and gave up a lot of social and 'fun' stuff, but it was worth it.
As for a degree, I had to drop my classes the most recent semester for some personal reasons, but I will be returning in the fall. This spring I have a surgery scheduled and 3 business-related trips that would get in the way of class.
Now to answer your question: is a degree needed? Depends on the field. Some don't care, while others will flat-out require it. And while it may seem outdated or otherwise 'unfair', having a degree DOES prove that you were able to finish what you started and complete the assigned tasks. It isn't about learning specific skills (other than science-heavy degrees), but learning the process. Can someone do as good a job? Absolutely. But that won't matter if they never get the chance. With the high amount of unemployment and flood of young workers in the field, having a degree is almost a given. Not having one will put you way behind the others. Again, not fair, but that's how it goes.
Your Turn
Andrew shared a great story that is inspiring to people who question whether they can have a professional job without first graduating from college. Still, strong sentiments were shared. Clearly, Andrew is succeeding without having finished his degree but is still of the opinion that one is necessary in this world.
What do you think? Should people without degrees be given the chance to prove themselves? Should a non-graduate have to work harder to prove themselves because "that's how it goes"? Is there historical evidence to show that a nation can thrive on the backs of the non-degree'd?