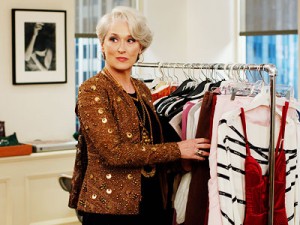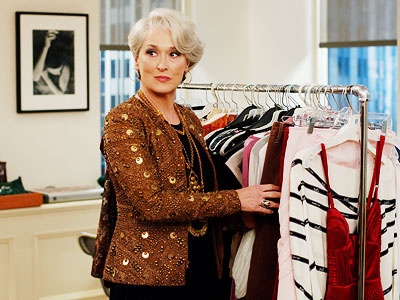 Marketing+trickery = Marketery (pronounced Mar.ke.tree)
I know someone is going to laugh and think, "Oh she is so naïve" because gaming the system has been going on for as long as marketing has existed. I'd like to make it through the noise, though, without employing the tactics that seem to appeal to so many. I'd like to believe that marketing isn't about the equivalent of black hat SEO. If certain trends in social media marketing are any indicator, though, I worry about its future.

I'm reminded of a clip from Devil Wears Prada where Andy is harangued by Miranda for her distaste of the fashion industry and its unimportance to her world.
Some Bad Trends in Internet Marketing Strategy
Baiting – On more than once occasion I've read tweets that explicitly state marketing is about getting people angry. "What about Zappos or Tom's Shoes", I want to say. These companies prosper on the back of being positive and benefitting society.
What is wrong with us when the reason we click on a link is because it says something to denounce a person, race, gender, sexuality, or generation? Maybe the problem isn't with marketing. Marketers are just doing what society asks of them: Give me a reason to be pissed off today. It's easier to have a whole lot to say about something you don't like versus something you do.
I rarely saw tweets about Gap until they made a bad logo. Good music from veteran artists rarely gets spoken about. People watch television shows and have whole conversations with their Twitter network…wait for it…because they hate the show. It hurts my brain. You want these shows to disappear and the music to get better but you give the businesses what they want – impressions. Positive or negative sentiment matters not. More buzz = more bucks.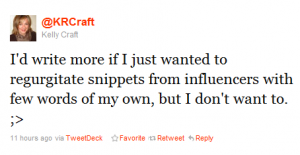 Flattery – "You're fabulous." Really?? We've had two conversations. I appreciate the compliment, but I'd appreciate it more if it didn't come immediately before an invitation to read, retweet, or otherwise endorse something of yours. Before I flatter people I make an effort to get to know them. I research their blogs or their company. I read the bio on their Twitter profile. The point is that I know enough not to ask who is the host of the chat that they moderate.
Attaching a hashtag to every.single.thing.you.tweet. – I initially latched onto hashtags because they were used to gather people together for hashchats (or Twitter chats). These chats were full of people who spoke to you regardless of your name. Twitter, all of Twitter, felt like Cheers. I could pop into any chat at its scheduled time and I would be welcomed. A person's placement in social media had no bearing on whether or not they were worthy of speaking to. Come into the "room", have a seat, and exchange some knowledge about a chosen industry.
Hashtagged trending topics were a nuisance because people using them weren't using them to find new people to talk to. They just wanted to be part of what everyone else was doing. It was something to do to prevent boredom on Twitter.
I promise you that I will not be doing a search for all the people who use "#cheese" or some other such silly hashtag anytime soon. Is the goal to become the most influential person using "#hey" or something similar? I'll keep my hashtag use to phrases that are built on conversation.
A Needed Change in 2011
One of the hallmarks of Generation Y is our aversion to traditional marketing methods that push messages onto us. This is why we, largely, don't read advertisements; we fast forward through commercials; and, it's why viral marketing is so misunderstood.
Twitter is underused by Generation Y and will continue to be underused if it becomes a channel for sales. I can find content that is great and valuable without having someone "build a relationship" with me through transparent, self-serving flattery.
I am still learning this stuff, but the mentality that everybody wants to be like us doesn't "resonate" with me, either.
Movie Videos & Movie Scenes at MOVIECLIPS.com