Strength is the likelihood that your brand is being discussed in social media. A very simple calculation is used: phrase mentions within the last 24 hours divided by total possible mentions.
What is "sentiment"?
Sentiment is the ratio of mentions that are generally positive to those that are generally negative.
What is "passion"?
Passion is a measure of the likelihood that individuals talking about your brand will do so repeatedly. For example, if you have a small group of very passionate advocates who talk about your products or brand all the time you will have a higher Passion score. Conversely if every mention is written by a different author you will have a lower score. Most frequently used keywords and number of times mentioned. Number of mentions by sentiment.
What is "reach"?
Reach is a measure of the range of influence. It is the number of unique authors referencing your brand divided by the total number of mentions.
Some Highlights
CarlSorvino: Not sure marketers even understand the way GenY and younger go about things #GenYchat
amfunderburk1: @EmilyBennington I feel that way as well. My generation is being targeted a lot, but what
about the other generations? #genychat
j2_whittington: Re: Q1 Marketers are trying to market archetypes to us that we largely don't conform to and
outright reject #GenYChat
THO_R: It's not? 😉 RT @nicole_gary: A lot of companies think posting their message to social sites
counts as "engagement" #genychat
YouTernMark: Marketers will serve us all better when they market to demographics specific to the individual
vs. some arbitrary age group #GenYChat
MarieDenee: @MillennialTweet Here is a new infograph of Twitter vs. Facebook w age, sex, income, and
engagement, and actions! #GenYChat
MarieDenee: @MillennialTweet #GenYChat http://bit.ly/fpuUQY here you go
CASUDI: @GenyChat A3 ~ I am not a good example here ~ I tend to do the opposite when I hear
everyone does it a certain way

#genychat
RT @Karen5Lund: A4: Wondering if difs are result of demographic or age? I am different now than I was in my 20s & Gen Y will be different too. #GenYChat
RT @Karen5Lund: @nicole_gary @jmorganemma I'll agree that it's a bad time to be graduating. Then again '80s weren't all that great… This worse. #GenYChat
RT @JDEbberly: @GenyChat This devastating recession plus unprecedented geopolitical change in US government is even MORE difficult for boomers #GenyChat
RT @BillBoorman: Reverse mentoring in the work place works well for me #GenYChat
RT @BillBoorman: My 11 year old son will probably never need to use a pen and says ask google. forget gen y, what about gen z? #GenYChat
RT @YouTernMark: Does anyone — regardless of birth generation — want to take advice/counsel from a "Because I said so…" type? #GenYChat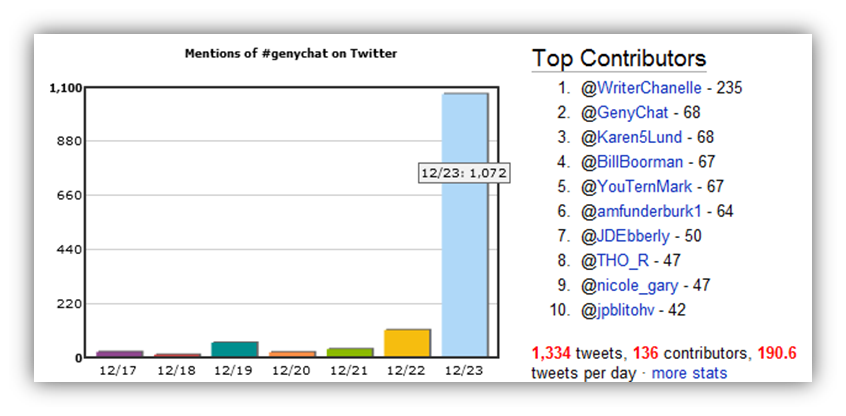 The full GenYChat transcript is up now!