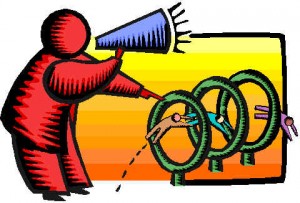 In my daily job searches I find descriptions that are either lacking in detail or rife with detail but seem to expect too much. This new economy has created an employers market wherein workers without degrees are suffering. If college graduates are increasingly in jobs that don't require degrees, what does that say about the ability for non-degree'd workers to get past resume screenings? As a result, jobseekers without degrees are taking on work that they should be paid for just to get the experience that overworked HR departments are concluding they're not qualified to receive.
I took a snippet from a recent listing. You tell me. Are these requirements evocative of an exploitative work environment or not?
an immediate position for an Intern to build and chart our Social Media Web content presence. This is an unpaid Internship. You will be responsible for charting and creating our professional corporate image on FaceBook, Twitter, LinkedIn, YouTube, RSS, eNewsletter, Blogs, as well as the redesign, layout and content of our existing web site. The ideal person will need to be innovative, passionate about online marketing, extremely creative and have an innate ability through their own personal knowledge and/or education that will allow them to immediately take responsibility as the Social Media Web Content Coordinator.

Responsibilities:

* Create, develop and maintain all content for our FaceBook, Twitter, YouTube, Blogs, LinkedIn, eNewsletter and all other web site or social media outlets.

* Identify opportunities to drive traffic and sales through social media platforms.

* Act as the voice of our social networks by providing relevant and interesting content.

* Increase the number of followers/fans to our accounts through community outreach and interesting content.

* Connect with and engage customers to help us better understand what they want.
Can these tasks be done well by someone who is financially responsible for themselves?
There are job descriptions that suggest a great working environment with adequate pay. Is this one of them?