Would you ask this question to an employer in this new economy? I wouldn't – lest I be cast off as one of the self-obsessed, entitled brethren of my generation.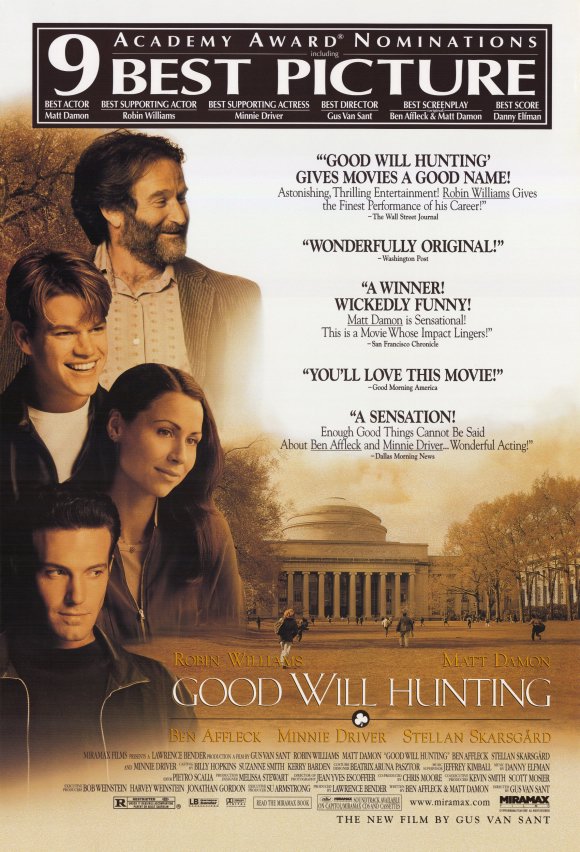 When I saw this scene (again) in Good Will Hunting, though, I realized how much it oozes the spirit of Generation Y. To our own fault, in some cases, we would rather work for a company dedicated to promoting societal benefit than blight. His type of genius is remarkable and extremely valuable, thus companies and individuals pursued him. Steadfast in his beliefs, he sought the personal triumph in standing on his principles.
When you have bill collectors on your back and financial pressure causing discord within your family, can you afford to hold onto principles? Watch the clip. Let me know what you feel in the comments.
Good Will Hunting transcript snippet
NSA
Interview
WILL
So, why do you think I should work for the National
Security Agency?
NSA AGENT
Well, you'd be working on the cutting edge. You'd be
exposed to the kind of technology that you wouldn't see
anywhere else because we've classified it. Super string
theory, chaos math, advanced algorithms…
WILL
Code-breaking.
NSA AGENT
Well, that's one aspect of what we do.
WILL
Oh, com'on, I mean, that is what you do. You guys
handle 80 percent of the intelligence workload. You're
seven times the size of the CIA.
NSA AGENT
We don't like to brag about that, Will. So, the way I see
it, the question isn't Why SHOULD you work for the
NSA? The question is: Why shouldn't you?
WILL
Why shouldn't I work for the NSA? That's a tough one.
But I'll take a shot. Say I'm working at the NSA, and
somebody puts a code on my desk, somethin' no one else
can break. Maybe I take a shot at it and maybe I break
it. And I'm real happy with myself, cus' I did my job
well. But maybe that code was the location of some
rebel army in…
Sean's Office
WILL
…North Africa or the Middle East and once they have
that location, they bomb the village where the rebels are
hiding… Fifteen hundred people that I never met, never
had no problem with get killed. Now the politicians are
sayin', "Oh, Send in the marines to secure the area" cus'
they don't give a shit. It won't be their kid over there,
gettin' shot. Just like it wasn't them when their number
got called, cus' they were off pullin' a tour in the National
Guard. It'll be some kid from Southie over there takin'
shrapnel in the ass. He comes back to find that the plant
he used to work at got exported to the country he just
got back from. And the guy who put the shrapnel in his
ass got his old job, cus' he'll work for fifteen cents a day
and no bathroom breaks. Meanwhile he realizes the only
reason he was over there in the first place was so that
we could install a government that would sell us oil at a
good price. And of course the oil companies used the
little skirmish over there to scare up domestic oil prices.
A cute little ancillary benefit for them but it ain't
helping my buddy at two-fifty a gallon. They're takin'
their sweet time bringin' the oil back, of course, maybe
even took the liberty of hiring an alcoholic skipper who
likes to drink martinis and fuckin' play slalom with the
icebergs, it ain't too long 'til he hits one, spills the oil
and kills all the sea life in the North Atlantic. So now
my buddy's out of work. He can't afford to drive, so
he's walking to the fuckin' job interviews, which sucks
because the shrapnel in his ass is givin' him chronic
hemorrhoids. And meanwhile he's starvin' cus' every
time he tries to get a bite to eat the only blue plate
special they're servin' is North Atlantic scrod with
Quaker State. So what did I think? I'm holdin' out for
somethin' better. I figure fuck it, while I'm at it why not
just shoot my buddy, take his job, give it to his sworn
enemy, hike up gas prices, bomb a village, club a baby
seal, hit the hash pipe and join the National Guard? I
could be elected President.
SEAN
You feel like you're alone, Will?
WILL
What?
SEAN
Do you have a soul mate?
WILL
Define that.
SEAN
Somebody who challenges you.
WILL
I have Chuckie.
SEAN
You know, Chuckie's family, he'd lie down in fuckin'
traffic for you. I'm talking about someone who opens
up things for you. Touches your soul.
WILL
I got..I got..
SEAN
Who?
WILL
I got plenty.
SEAN
Well, name 'em.
WILL
Shakespeare, Nietzsche, Frost, o'Conner, Kant, Pope,
Locke…
SEAN
That's great. They're all dead.
WILL
Not to me, they're not.
SEAN
Yeah, but you don't have a lot of dialog with them. You
can't give back to them, Will.
WILL
Well, not without some serious smelling salts and a
heater.
SEAN
Yeah. Well, that's what I'm saying. You'll never have
that kind of a relationship in a world where you're
always afraid to take the first step because all you see is
every negative thing ten miles down the road.
WILL
What? You're going to take the professor's side on this?
SEAN
Don't give me a line of shit. No.
WILL
Look. I didn't want the job.
SEAN
It's not about the job. I don't care if you work for the
government. But you can do anything you want, you are
bound by nothing. What are you passionate about. What
do you want? I mean there are guys who work their
entire lives laying brick so that their kids have a chance
at the opportunities you have here.
WILL
I didn't ask for this.
SEAN
No. You were born with it. So, don't cop out behind "I
didn't ask for this."
WILL
What do you mean "cop out?" I mean, w-w-what's
wrong with layin' brick?
SEAN
Nothing.
WILL
There's nothing wrong—That's some– That's
somebody's home I'm building.
SEAN
Right. My dad laid brick. Okay? Busted his ass so I
could have an education.
WILL
Exactly. That's an honorable profession. What's wrong
with..with fixing somebody's car. Someone can get to
work the next day because of me. There's honor in that.
SEAN
Yeah, there is, Will. There is honor in that. And there's
honor in, you know, taking that forty minute train ride
so those (college kids come) in the morning and the
floors are clean and the wastebaskets are empty. That's
real work.
WILL
That's right.
SEAN
Right. And that's honorable. I'm sure that's why you
took that job, I mean, for the honor of it. I just have a
little question here. You could be a janitor anywhere.
Why did you work at the most prestigious technical
college in the whole fuckin' world? And why did you
sneak around at night and finish other people's formulas
that only one or two people in the world could do, and
then lie about it? Cus' I don't see a lot of honor in that,
Will. So, what do you really want to do?
WILL
I wanna' be a shepherd.
SEAN
Really.
WILL
I wanna move up to Nashua get a nice little spread get
some sheep and tend to them.
SEAN
Maybe you should go do that.
WILL
What?
SEAN
You know, if you're going to jerk off, why don't you
just do it at home with a moist towel?
WILL
You're chuckin' me?
SEAN
Yeah, get the fuck out.
WILL
Hey, no, no, no. Time's not up, yet.
SEAN
Yeah it is.
WILL
I'm not leavin'. No!
SEAN
Listen. You're not going to answer my questions, you're
wasting my fuckin' time.
WILL
What? I thought we were friends. Whadoyou mean
you–
SEAN
Playtime's over, okay?
WILL
Well, why're you kickin' me out, Sean? I mean, what? I
mean…you're lecturing me on life? Look at you, you
fuckin' burnout. What winds your clock?
SEAN
Workin' with you.
WILL
Where's your soul mate? You wanna talk about soul
mates? Where is she?
SEAN
Dead.
WILL
That's right, she's fuckin' dead. She fuckin' dies and you
just cash in your chips and you walk away?
SEAN
Hey, at least I played a hand.
WILL
Oh…You played a hand and you lost. You lost a big
fuckin' hand and some people lose a big hand like that
and have the sack to ante up again.
SEAN
Look at me. What do you wanna do? You and your
bullshit. You got a bullshit answer for everybody. But I
ask you a very simple question and you can't give me a
straight answer. Because you don't know. See you, bo
peep.
WILL
Fuck you.
SEAN
You're the shepherd……Shepherd…Fuckin' Prick.