Every Wednesday at 9pm ET #GenYChat'ers meet on Twitter to discuss topics that help bridge the perceived generational gap. The goal of #GenYChat is to learn from each other by exchanging ideas across all ages.
Being the week of New Year's Eve, this week's chat took a turn towards introspection. The goal was to see how each generation feels about the direction their lives have taken and what changes, if any, will be made for 2011.
The following are tweets taken from the transcript, highlighting the theme of the chat.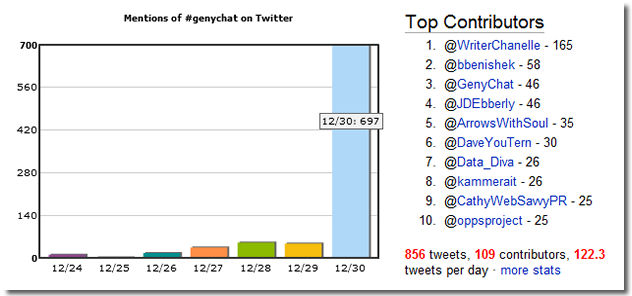 | | |
| --- | --- |
| GenyChat: | Q1. When is it time to move on from a job versus staying and working harder? #genychat |
| | |
| --- | --- |
| bbenishek: | Q1: This is a tough one. Several of my friends just can't stand what they're doing, job OR career–yet they have to pay bills #genychat |
| | |
| --- | --- |
| JDEbberly: | Q1 I learned that one the extremely HARD way – I stayed too long at a BAD job – With negative repercussions that lasted 16 yrs #GenYChat |
| | |
| --- | --- |
| GenyChat: | Q2. Is there anything in your past that you wish you had handled differently? #genychat |
| | |
| --- | --- |
| DaveYouTern: | I agree… RT @bbenishek: Q2: Should have gone into internships vs snapping up the first job I found Good experience at least! #genychat |
| | |
| --- | --- |
| GenyChat: | Q3. How are you different now versus 10 years ago? Where would you like to be in ten years? #genychat |
| | |
| --- | --- |
| catelouie: | Q3: 10 years ago I basically did everything possible to "fit in" and "be liked" instead of just being true to myself. #genychat |
| | |
| --- | --- |
| elevatedhr: | A3: Learned to be more patient & less emotional. Learned how to play the political game & enjoy it. Understand not all is fair. #genychat |
| | |
| --- | --- |
| oppsproject: | A3- 10 years ago, I wish I'd realized there were multiple paths to success. And that I was stronger than I thought. #genychat |
| | |
| --- | --- |
| CathyWebSavvyPR: | Q3 How am I diff from 10 yrs ago? I am more confident in what I know & what I do, & more willing 2 admit what I don't know #genychat |
| | |
| --- | --- |
| mshahab: | 10 years ago I was an angsty pre-teen, definitely learned a lot and grown through experiences since #genychat |
| | |
| --- | --- |
| storeyourdorm: | Would love to see more of an emphasis educating youth about financial responsibility & setting personal goals & less on academia. #genychat |
| | |
| --- | --- |
| Data_Diva: | Debt & credit scores don't define *YOU*. Yes financial health is important but too many of us boomers got caught up in "status" #GenYChat |
| | |
| --- | --- |
| CathyWebSavvyPR: | My goal – use my talents 2 build an amazing life & help others unlock their talents & create an Amazing World #genychat |
| | |
| --- | --- |
| GenyChat: | Q5. Is it realistic to backpack across the country and start a new life anymore? #genychat |
| | |
| --- | --- |
| onejillian: | A5: I think it is NOT realistic to backpack across the country anymore bc of COSTS and RESUME stress from hiring mgrs #genychat |
| | |
| --- | --- |
| GenyChat: | Q6. What is the difference between knowledge, talent and skill? Which should we focus on for professional careers? #genychat |