It's New Years Eve!
As we countdown to 2011's fireworks and merriment, I'd like to reflect on the past year by discussing what I will be leaving behind, changes I will make, and suggestions for changes we can all make. It's time to move on from the past ten years. Here's to MMXI!
New Year's Resolutions
2010 was an especially rough year in the personal department. I've learned to let go of people who don't know how to treat me. I've also learned that it's better to be myself than to try to gain friends who won't be there years later. Much about my life has embittered me since 2001, and I no longer wish to carry that bitterness in me. Along with bitterness, I've experienced fits of jealousy and envy that I'm ashamed to admit. Another way to view jealousy and envy, though, is to see them as emotions that help you see what you want in your life. In 2011 I will make changes in how I handle life's events starting with the following:
Career Goals
Social Media for the C-Suite – Over the past two years, companies have started paying an increasing amount of attention to social media as a marketing tool. In 2011 I will take the knowledge I have gained and learn more about the needs of results oriented executives.
Develop a stronger online presence outside of Twitter – If Twitter becomes the place where blocking spammers and filtering out contests and obtrusive hashtags rules my days, I will leave. I suspect many others will, as well. This means my blog must be successful without relying on tweeting blog posts to obtain traffic. I've been using SEO strategies, but I will make an increased effort to optimize my work.
Valuing my experience – When I started this blog in 2009, I didn't believe I had any experience to offer a company. It seemed that no matter where I tried to apply, I couldn't get close to a full time position. People who just turned 22 had better jobs than I did at 25. I was working with 18 and 20 year olds. At one point my manager was two years younger than me. I needed a change. Since one of my dreams is to write a screenplay, I wanted to test myself. I wanted to see if I could believe in myself enough as a writer. If I could do that, then maybe others would begin to believe in me, too. I passed the test. I'm grateful to wake up every day because I am writing every day – if not for me, for someone else in the form of a guest post. I'm looking forward to 2011 and new possibilities.
Personal Goals
No man is a failure who has friends – This is a lesson from It's A Wonderful Life. I admit that I am jealous of people and their constant updates of who they're hanging out with and where they went to eat. It sounds a little loser-ish, which is why I admit to being embarrassed to say I want a better social life. Sitting in the house all day is not my idea of how I want to spend my twenties. Facebook makes it all the more difficult. Between relationship status updates and getting no responses to events I plan, it's a minute by minute reminder of how being broke and living far away from friends is really isolating.
Celebrate good music – I love music and I'm realizing more and more how much each artist who passes from this Earth means to me. Their contributions should be celebrated more while they are here. On my blip.fm station I generally play whatever I'm in the mood to listen to, but I want to move towards promoting a certain legendary artist on at least a weekly basis.
Become a pseudo foodie – Having been on a Ramen and turkey sandwich diet for years now, I want to try different dishes. Along with a better social life, I hope to have a reason to use sites like Yelp and Foursquare to offer reviews of restaurants I venture to in 2011.
Stop comparing myself to others – Dave Chappelle wrote Half Baked at 23 and I have yet to finish my script. He became wildly successful monetarily. Then, he promptly let it all go. Money will only solve my problems with government agencies. What I really want in my life is the feeling of progression. I resolve to plan more while still cherishing each moment.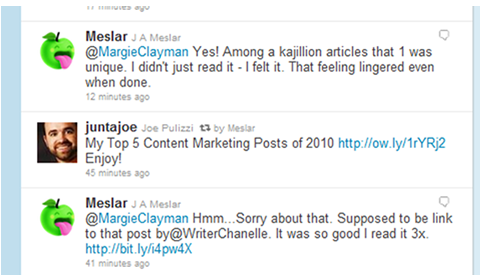 Most of all, I resolve never to get so caught up in the "how-to's" of writing that I forget to follow my instincts. I know it can be tacky to highlight the people who talk about you, but this was such a kind compliment that I can't resist.
I cringe at writing some of these words because they are so personal. I've felt unloved, cheated, hurt, misjudged, silenced, left out, cynical, angry, frustrated, bitter, and jaded. I've held onto a lot for the past year(s), and I just want to release it all. There are a lot of angry people in this world. I resolve not to be one of them in the New Year.
It would be nice if we all moved on from doing certain things online. I list a few below.
Social Media Idiosyncrasies
+1 – This is the attribution being given to tweets that people agree to. So, if I dislike something should I attach "-1" to it? What is so bothersome about it? It evokes this high-five, thumbs up, odd method of social discourse that seems odd to me. It also reminds me of Facebook. Maybe it's just me, but I don't want to be reminded of Facebook when I'm on Twitter. +1 should be reserved for RSVP's. It's not difficult to retweet a statement then make a public tweet stating whether you agree or disagree and why.
RT's with no conversation – Let's remember that social media is meant to be a social discourse. Would you say to someone, "I'm going to share that" in real life without giving them a clue as to why?
Tweets to me and 30 others asking for something – There is already a Bad Pitch Blog. Can there be a bad Twitch (Twitter Pitch) Blog, too?
I am not Google – We're all grown-ups, right? If you ask me a vague question that shows you have not tried to do any research at all, I will direct you to the Google search that will give you your answer. Did you ever ask your parents what a word meant only to have them say, "Look it up!"? This is the same idea.
Having "real" conversations in DM – I don't actually have a problem with people who have conversations through direct messages. I just don't understand the need to share this fact. Why am I finding out that you had a hilarious DM convo with @secretBuddyXxX? Am I supposed to feel left out? I don't.
Participating in chats selfishly – If you're not in a chat to learn or genuinely help others learn and just want a bunch of RT's to increase your "influence", you're doing a disservice to the chat. Ex.:  "Please help and follow! I am trying to meet my goal of 1k followers by Jan 1st! Thank you! #blogger #blogchat" You know what happens when you get 1000 followers? Nothing. It's not a metric to evaluate the worth of your social media presence.
"Thoughts" and "Please advise" – I shudder hearing these phrases and others of the same ilk.
Discussing work related topics over Facebook, Twitter, etc… – Why does this even seem like a smart idea?
!!!! and CAPS LOCK all over everything – Tweets in all capital letters or statements with exclamation points everywhere don't make me jump to attention. Yelling, especially when speaking to a brand's Twitter account, makes me want to unfollow you. Do you really have to tell a company off to get their attention? I'll answer that for you. No. You don't.
A flashing Twitter profile pic? Really?? It wasn't sexy on MySpace. It's not sexy here.
Replying to spammers – Read this then ask yourself why you feel the need to tell someone about themselves when they won't even read it. Just block them and report them for spam. And, oh yea, I don't need to know when you've blocked spammers, either.
But, you're right, you can do whatever you want with your account because I don't have to follow you. That's what this world is meant to be, right? A big place where we exist in a self-centered state.
To Wrap Up
Today also marks the last day of my #25Reasons project. I see this final post as a year-end evaluation. On a scale of 1-10 I'd give myself a 7. I could definitely use some improvement, but I'm not failing.
Thank you for taking the time to read this. I wish you a Happy New Year. *Vuvuzela buzzzzzzzzz*
Auld Lang Syne Lyrics and Song
Should old acquaintance be forgot,
and never brought to mind?
Should old acquaintance be forgot,
and old lang syne?
CHORUS:
For auld lang syne, my dear,
for auld lang syne,
we'll take a cup of kindness yet,
for auld lang syne.
And surely you'll buy your pint cup!
and surely I'll buy mine!
And we'll take a cup o' kindness yet,
for auld lang syne.
CHORUS
We two have run about the slopes,
and picked the daisies fine ;
But we've wandered many a weary foot,
since auld lang syne.
CHORUS
We two have paddled in the stream,
from morning sun till dine;
But seas between us broad have roared
since auld lang syne.
CHORUS
And there's a hand my trusty friend!
And give us a hand o' thine!
And we'll take a right good-will draught,
for auld lang syne.