The first day of 2011 was celebrated by Pizza Hut with a promotion for their fans on social media with their 1111 Stuffed Crust Pizza promotion. Pizza Hut gave away gift cards valued at $10 to the first 1,111 people who clicked on a link sent out at 12pm ET. I clicked on the link at 12:02 (because I was working on a blog post and looked away for a couple minutes) and was greeted by this: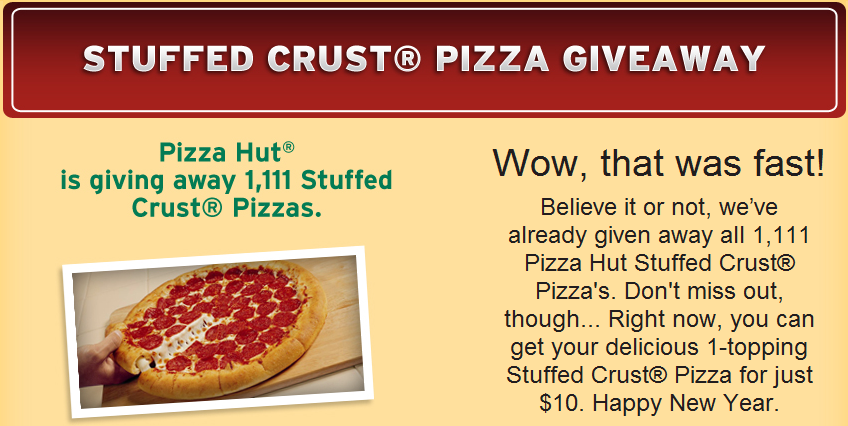 Is Pizza Hut the first social media marketing fail of the New Year? Like TGI Friday's, Nestle, and several other corporations who made public gaffes in 2010, I suspect Pizza Hut will take this attempt at rewarding their customers as a learning experience. A commenter on Pizza Hut's Facebook page made a great point. They have over 2 million fans on Facebook and 40K+ followers on Twitter. To give away .04931% of product guarantees that 99.51% of your total fans on social media will be left unsatisfied whether they voice their feelings or not.

On the other hand, it's just pizza. How much responsibility does Pizza Hut have to please all of their fans? This is not a promotion that we asked for. This is something they gave us. Do their fans have a right to be upset, or should we just move on?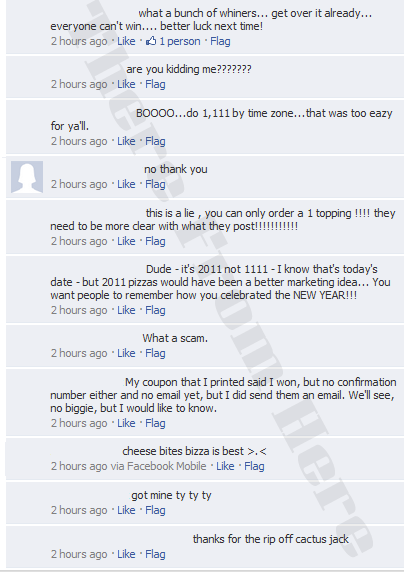 Unless the data on the number of impressions this campaign received is discovered, there's no way to know how many people knew about it ahead of the day. The company did know, however, that the pizzas would go quickly judging by the text in the image above.
With so many other problems in the world, missing out on a $10 pizza promotion won't turn me into a ranting lunatic, nor will they lose my business. In the end, it's really not that serious.
You Might Like...