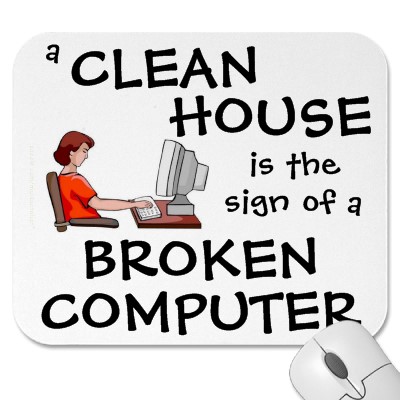 Taking time for myself makes me feel like I'm being lazy.
With so many GenY critics blasting my generation for being lazy, it's a label I strive to avoid.
A couple months ago I started asking friends to hold onto their cardboard boxes. I intended to use these boxes to finally organize my room. I still haven't done it.
I have clutter. Worse, I have memory clutter.

Stuffed animals.

An Encyclopedia.

Board games.

Puzzles.

College textbooks and papers.

Old clothes.

Old shoes.

Old jewelry and accessories.
What's my problem? I don't use 90% of this stuff, and I really want to throw it all out, but I can make great excuses to avoid doing it.
I'd prefer to write a guest blog post, design a logo, or redesign a website before I do any work that only affects me. The other problem is that if everything doesn't have a certain place to go, it won't go anywhere but on my bed or piled up on the dresser.
When I am confronted with a big mess that I created, I have to move the mess out and start with a clean space, moving the necessary elements back in afterwards. Unfortunately, I'm in a living situation where doing that will disrupt the comfort of others, so I'm stuck.
This presents an opportunity for me to work on creating a solution for myself despite being unable to do it the way I want to.
Because I can't clean the way I want to, which I feel would be faster, I put it off. Rather than spending more time completing what is, in my opinion, a selfish task, I'd rather do work.
This is very bad. I know it is. I also know it's not the case that the behavior will change once I can move into my own apartment. I've moved out before. Because I had no furniture to store my stuff in, everything stayed in bags or sprawled across the bedroom floor. I am notorious for having too much stuff. It started my first year of college when I moved into a dorm with two cars and a truck full of stuff. People I knew in college told me I had too much stuff. Family told me I had too much stuff.
I might just be in denial.
I don't really see it as too much stuff because it all fits in one room. It just doesn't fit well. Everything I have has a certain memory for me. It's my stuff that makes me feel less like a nomad with no real place in the world. It's my stuff that makes me feel like I've actually done something. It's my stuff that makes me feel like I belong somewhere. When you're sitting in a room with no mementos, it might as well be a hotel room or guest room.
Still, I can't help but feel a certain calm and envy when I see a room get an outstanding makeover on shows like Enough Already on OWN. I believe that feelings of jealousy and envy clue you in to what you really want in your life.
The question is, when I do finally get my room organized, will I keep it that way? I guess I just have to take the advice of so many professionals and find a proper balance between being in the service of others and making time for myself.
Any advice to offer on keeping a space organized when you're more into doing work?