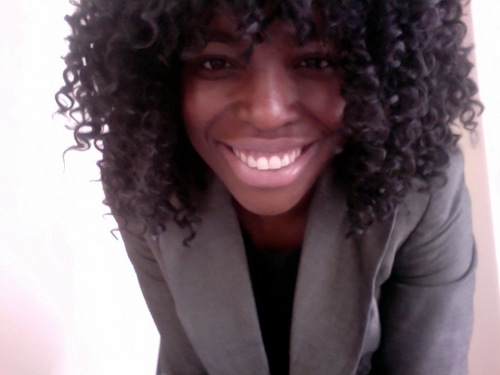 How Did We Meet?
Zim Ugochukwu first moved onto my radar in the summer of 2009 when I mentioned that I would be attending the Campus Progress National Student Conference (CPNC) on Twitter. Almost immediately I received a tweet from @IgniteGSO saying they would be there, too, and that I should check out their project. Usually I don't click on anyone's link just because they send it to me, but I made an exception. As someone who worked on her college campus to battle against apathy and increase student involvement, I was impressed by the mission and, later, inspired by Zim when she received an award for her work on stage at the CPNC.

I'm grateful that Zim was paying attention to updates about the conference because I have been able to see her consistent growth for close to two years. If anyone deserves to be on a "Ones to Watch" list, it's her. In a world full of people seeking change and innovation for selfish reasons it is refreshing to see someone so committed to selfless progress.

What follows is an interview I conducted of her, gaining insight into her multiple projects and how she is getting there from here.

What is helloChange?
helloChange is the largest youth run National Anti-tobacco activism program. It was called the Electrified Youth Project at first. Our mission is to fight back against Big Tobacco. We recently won a $250,000 PepsiRefresh grant and we'll be going on a 20-30 city tour this summer in addition to hosting a conference in Louisiana.

What is your role in helloChange?
I am Vice President of Activism.

How did you find out about helloChange?
Chad Bullock, the founder, and I went to middle school together. We lost touch but met again when I was interning in Washington, DC. He has always been involved in teaching young people. He approached me about this project, and that's how I became involved. Chad used to be on the youth advisory board of Truth and is the first non-celebrity to win a Teen Choice Award. He just turned 22. He uses his age to his advantage and the oldest person involved in helloChange is 25.

What is Ignite Greensboro?
The first mission of Ignite Greensboro was to raise awareness for the Civil Rights Museum. When I didn't receive the support I was looking for, I decided to move on with the project on my own and within the same year was getting recognized by the same people who said it wouldn't work.
Ignite Greensboro is a project based on mobilizing the students from the colleges and universities in Greensboro to engage in the community through ongoing social action and comprehensive programs. Our mission is to provide a medium for college students to become effective catalysts for change and competent representatives of progress in our society.
The purpose of There From Here is to inspire people with stories and advice from those who are achieving their goals by showing how they are getting where they're meant to be. Do you have any advice to share for people who may be struggling with following through on their ideas or staying motivated?
Not every idea is going to work. Some ideas may be so ambitious. We have the ability to make our own decisions. If someone's telling me no, then we'll find another way around it.
Never ask permission to start a revolution. Our ancestors had the same fear during the Civil Rights Movement. We have to learn to move past the fear. My conscience never says you can't do this. What do you have to lose? What are you waiting for? [People who are afraid] wait like they're waiting for something to happen. You just have to do it.
Growing up I always knew I would be a doctor. My whole family was ok with that decision. My mom was not comfortable when I started to go on a different track. She would say, "Get a job because it pays good." Now, her mentality has shifted and she sees what I'm doing. She did always tell me that if I don't like something, I need to fix it, so my tenacity comes from that.
I'm thankful for grants and scholarships that paid for school. I doubt I would have been able to do any of this had I had to work 40 hours a week. I don't get paid for my work with Ignite Greensboro. When I graduate, I might be working overseas.

Where do you begin searching for grants?
No website in particular but type in what you're looking for into Google or even the local library section on non-profits. The grant we're applying for now I found by just Googling. There are so many grants a lot of people aren't applying to.

Where does your courage come from and how did you find good people to help?
If you're willing to take the setbacks that come to you, stay involved. The only thing you're losing is the status quo. Somebody across the world is going to come up with the same idea. You have to decide if you're going to be the person to provide what the world needs. There is beauty in collaboration. Find someone who specializes in what you're not specialized in. Work with committed peers who are not just excited. Excitement fades. They have to be passionate. Your conscience is there for a reason. It may be a fault of mine, but I always listen to my conscience and my conscience never says don't do it.

How do you maintain a work/life balance?
This is a tough question because sometimes I don't even know. I'm trying to get better at balance. I find motivation in the smallest things. I'm more motivated by the final picture. I think that I'm more of a facilitator. I know that my motivation comes from that. Sometimes the work becomes stressful. Living by myself helps because I don't have to deal with people in my space. I don't think that I'm 100 precent balanced, but I have a lot of energy.

Where can we find more information about your projects?
Go to ignitegreensboro.org and hellochange.org or follow us on Twitter at @IgniteGSO and @hellochange.