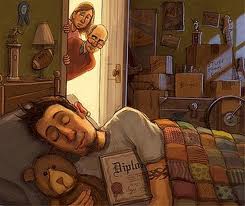 The following is a guest post by Cristin McGrath.
I've always been proud of my independence and ambition.  I never thought I'd consider moving back home.  My senior year of high school was the last time I lived with my parents for more than a few days.  As of August I'm back for a return engagement.
Society has attached a nasty stigma to the notion of adult children living with their parents.  After college it seemed most of my friends flew right back to their comfy, cheap nests when the job market was still poor, when their dream firms didn't extend offers, when their chosen fields and expected salaries didn't materialize.  I, on the other, less frugal hand, took an internship that didn't pay me nearly enough to afford my studio apartment in West Philadelphia (or life alone, in general).  While I was technically living under the poverty line, I saw stars – literally and figuratively – during my stint as an intern with the Philadelphia Eagles.  The brand recognition I earned from working with a professional sports team was too impressive to pass up.
After the internship's honeymoon phase wore off, I realized student loans didn't care about brand recognition and whether or not I saw literal or figurative stars.  My loan obligations were steadily piling up while I earned less as a literal and figurative star-seeing intern than a Burger King cashier.  Something didn't add up. I decided enough was enough and began the stressful and disheartening task of finding a new job. The figurative stars later aligned perfectly as a contact I met via Twitter told me of an opening with an agency. I'd finally found a new job and a spot above the poverty line.
Three unpaid college internships and countless student loans did their damage, however.  My new salary and benefits still don't allow me to save money and continue with my lifestyle, already something less than extravagant.  Asking my parents for help was the last thing I wanted to do, as my independence has always been important to me.  Fortunately, they both recognized my struggle with poverty-ridden pride and offered the move home as a temporary solution (the "temporary" is my addition).
I have established a January 1, 2012 deadline to move out (again), to reestablish my independence.  By then I will have a nest egg and be ready to kick myself out of my parents' nest.  A timeline for my departure is the only way I can mentally prepare myself for my return to the nest. I wanted to do it all on my own, and will, but us GenY'ers must know when our time in the wild has proven too dangerous to continue alone.  The global economy is in distress.  Debt – the country's, our parents', ours – is threatening our ability to take flight.  So don't be discouraged if the nest beckons.  It's warm and welcoming there.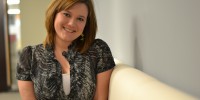 The preceding was a guest post by Cristin McGrath.
Cristin McGrath is a creative and passionate communications specialist with experience across both traditional and emerging media. Her young but vibrant career has focused on building brand images for impressive organizations across the music, entertainment, technology, and sports industries — her expertise in the fields of social media and events management has enabled her to successfully aid in the operation of press departments with the Philadelphia Eagles, Sony Music Entertainment, MTV Networks and Dell.  Most recently, she has transitioned into the world of agency PR with Vault Communications.
Cristin graduated in 2010 from Temple University with a BA in Strategic and Organizational Communication. She will be living (temporarily, of course) in the Poconos with her parents until January 2012.
You Might Like...