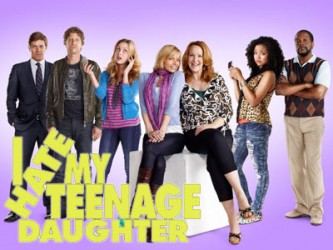 "I Hate My Teenage Daughter", a new Fox sitcom, tells the story of two popular teenage daughters being raised by two mothers who were unpopular in high school and their husbands.
Nikki Miller, one of the mothers, represses what are presumably her feelings of low self-worth – feelings that make her feel inferior to her daughter – by eating. She was supposedly, "cured" of these feelings, feelings for which she was teased mercilessly while growing up.
A sample of dialogue from the show:
"Honey, please don't be mad at me. I hate it when you shut me out. Can't we just go back to being best friends?"
"We were never best friends."
"It's okay. I know you didn't mean that."
It's normal to hate our mothers, right?
In the pilot the two daughters are punished by their mothers for leaving a wheelchair-bound classmate in a locked closet. Meanwhile, their fathers, seeking peace with their daughters, pay them each $100 to stop being angry with them.
The show approaches its end with a tender moment from Annie Watson, the other mother, to her daughter, Sophie. Sophie's apology leads the audience to believe the cause of their argument was a moment of failed communication where the mothers punished their children without listening to their daughters' side of the story. Both mothers lift the punishment.
The audience, now ready for a touching moment showing the daughters' complexity and exposing them as well intentioned, are instead shown that the girls are, in fact, liars. Years of family sitcoms with tender teaching moments offered at show's end might have trained our minds to expect and accept these endings. The show, in fact, ends with a realization that the daughters lied to have their punishments waived. Not only did they lie, but they also blamed their plight on hurtful comments received from the supposedly racist wheelchair-ridden student. Nikki, a Caucasian woman, is raising a biracial daughter, MacKenzie, the product of an interracial marriage now dissolving in divorce.
Instead of portraying the daughters as having the ability or the desire to grow and become better, they are portrayed as manipulative bullies who repeat the negative behaviors learned in their homes with their peers at school. Upon realizing the truth, that the wheelchair bound classmate is African-American and did not make racist statements, Annie notes they might simply have horrible daughters.
Is It Normal to Hate Your Daughter?
As a GenY-er I wanted to be on the side of the daughters prior to watching this show based solely on its title. I cannot support their behavior. This show highlights one kind of young person, an individual that does not represent the broad and diverse spectrum of today's youth. Daughters have long hated their mothers; it's part of youthful rebellion. Is "I Hate My Teenage Daughter" creating a new normal in hating the daughter right back, publicly? Is there a possible lesson to be learned that will be revealed in time?
The title of this show leaves much to be desired. Given its popularity, though, the show might not be going anywhere for a while. In December it won its Wednesday 9:30-10pm time period among Teens and Men 18-34 and ranks #2 among Adults 18-49 and Adults 18-34. The ratings show the unpopularity of this show among women, perhaps driven by its title. What is drawing teenagers and men to the show? Is this entertainment?
You Might Like...