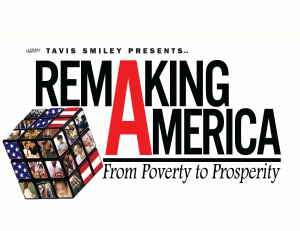 An article written recently by Forbes contributor Gene Marks was shared over 90,000 times, garnering attention for its, seemingly, purposely sensationalist headline. Out of the thousands of ensuing comments a theme emerged: His error was in making the piece about race when it should have been about class. What this article achieved was to highlight the ignorance of the experience of poverty held by the inexperienced. Poverty is still an issue. In 2012. Across the world.
In an effort to call more attention to and find a solution for this crisis, Tavis Smiley, host of Tavis Smiley on PBS, The Tavis Smiley Show and co-host of Smiley & West from PRI, (Public Radio International) and a panel of prolific thought leaders and advocates will convene in Washington, DC on January 12, 2012 from 6:30pm – 9pm ET for "Remaking America: From Poverty to Prosperity."
This symposium will discuss solutions for restoring America's prosperity and dissect the findings from a recently released White Paper from Indiana University on 'the new face of the poor.' "Remaking America" will feature a list of distinguished influencers from political, finance, film and economic communities including: Cornel West, Princeton professor and author; Suze Orman, America's leading authority on personal finance; Michael Moore, Academy Award®-winning filmmaker; Barbara Ehrenreich, author of Nickel and Dimed; Jeffrey Sachs, poverty expert and Professor of Health Policy and Management at Columbia University; Majora Carter, Urban Revitalization Strategist; Vicki B. Escarra, President and CEO of Feeding America and others!
WHERE:             George Washington University Lisner Auditorium 730 21st St. NW, Washington, DC 20052
ADMISSION: FREE TO THE PUBLIC on a first-come, first-served basis. Doors open at 5 p.m. Self-parking is available on site. All attendees must register at www.TAVISTALKS.com/REMAKINGAMERICA
To participate on Twitter, follow the hashtag: #RemakingAmerica
You Might Like...